(They publish Dark Souls)
Member
Tak Fujii is most well-known for... His E3 2010 presentation when he worked for Konami:
And then *reads off his LinkedIn profile* he was working with DMM.com from 2015 to 2018 as an executive producer on VR games and then from 2018 to present he was working at DMM Games LLC as a Business Development Executive/Senior Producer where one of the titles he produced was the Switch game Gal Metal.
He hasn't given much details on what his role is at Black Tower Studios but from reading their website they are an indie studio that does work with other developers/publishers around the world. Go to the following link which lists what games they worked on and read the part that says "Development" to know what they worked on, for example in the game Spellbreak, Black Tower Studios role in development was, "Port and co-development in Unreal Engine 4 from the multiplatform version of the game to the Nintendo Switch. "
There are more games in this list and unannounced titles which require password access: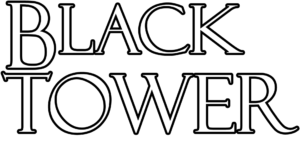 Black Tower Studios has worked on a wide range of titles, such as SPELLBREAK, Friday the 13th: The Game, ACE COMBAT 7 SKIES UNKNOWN, Bloodstained: Ritual of the Night.

www.blacktower.jp