Member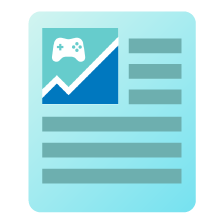 The leaks have given us a clear picture of GP subs from 2017-22, revenue for GP and also the GP Xbox and PC split.
Here are the known slides giving us a clear breakdown: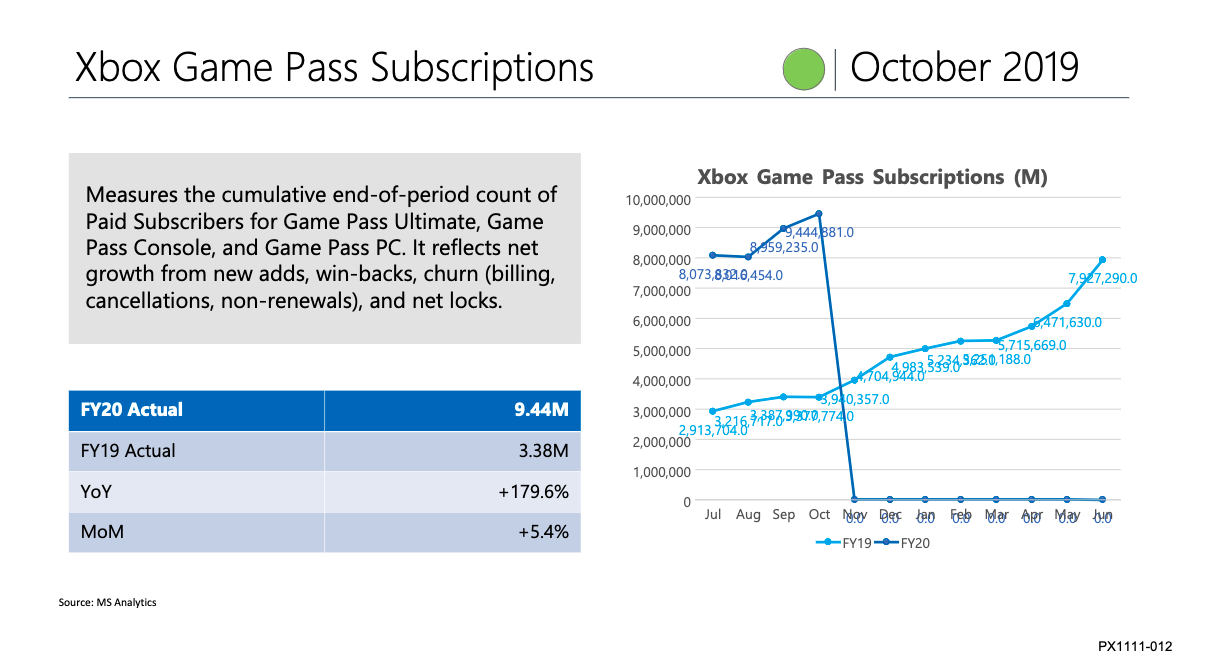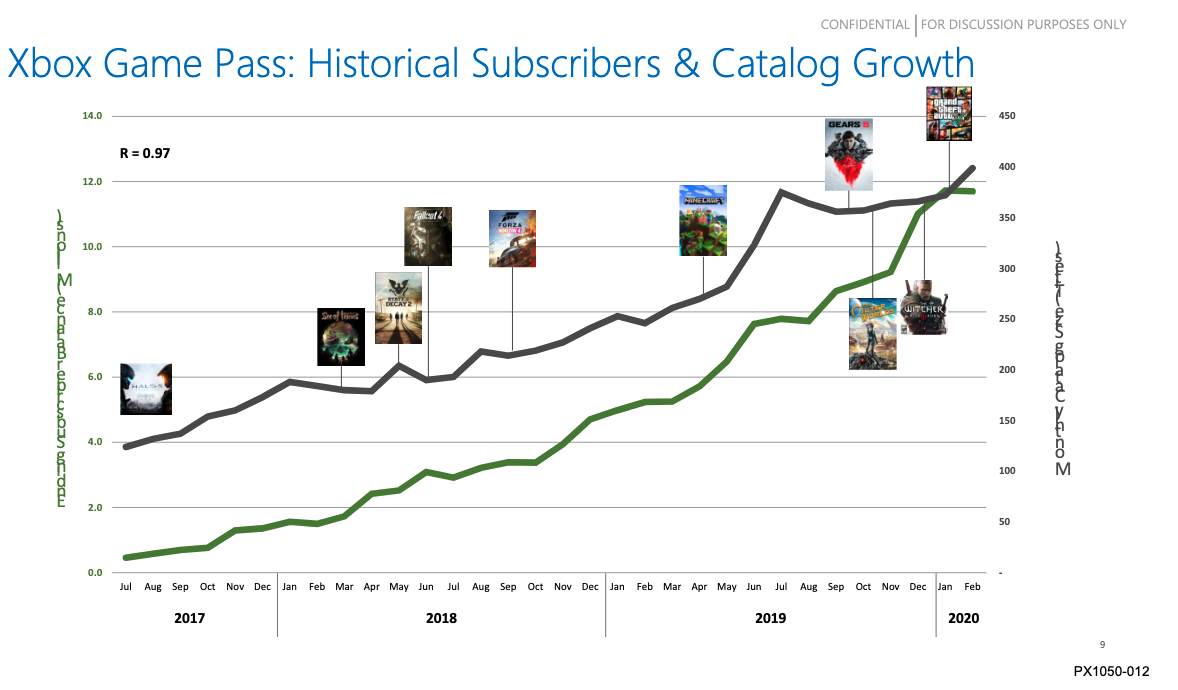 This thread gives us the data points from the second graph:
Graph was disclosed in one of the FTC evidence documents As this is based on pixel counting, I'll be rounding to the nearest 10,000 Year Month Subscribers as of Month Change in Subscribers 2017 July 460,000 2017 August 580,000 +120,000 2017 September 700,000 +120,000 2017...
www.installbaseforum.com
The rest of the data is calculated using data found through other documents. I've included a source for each further data point.
I reckon a good estimate pre-Starfiled is 27-8M (22-3M Xbox, 5M PC). I also estimated SF gave a sub increase of 1-1.5M in its first Q, so ~30M seems right.
This does not include MSFT's recent naming change of Gold -> GP core. As of Apr 22 there were 11.7M Gold vs 21.9M Xbox GP.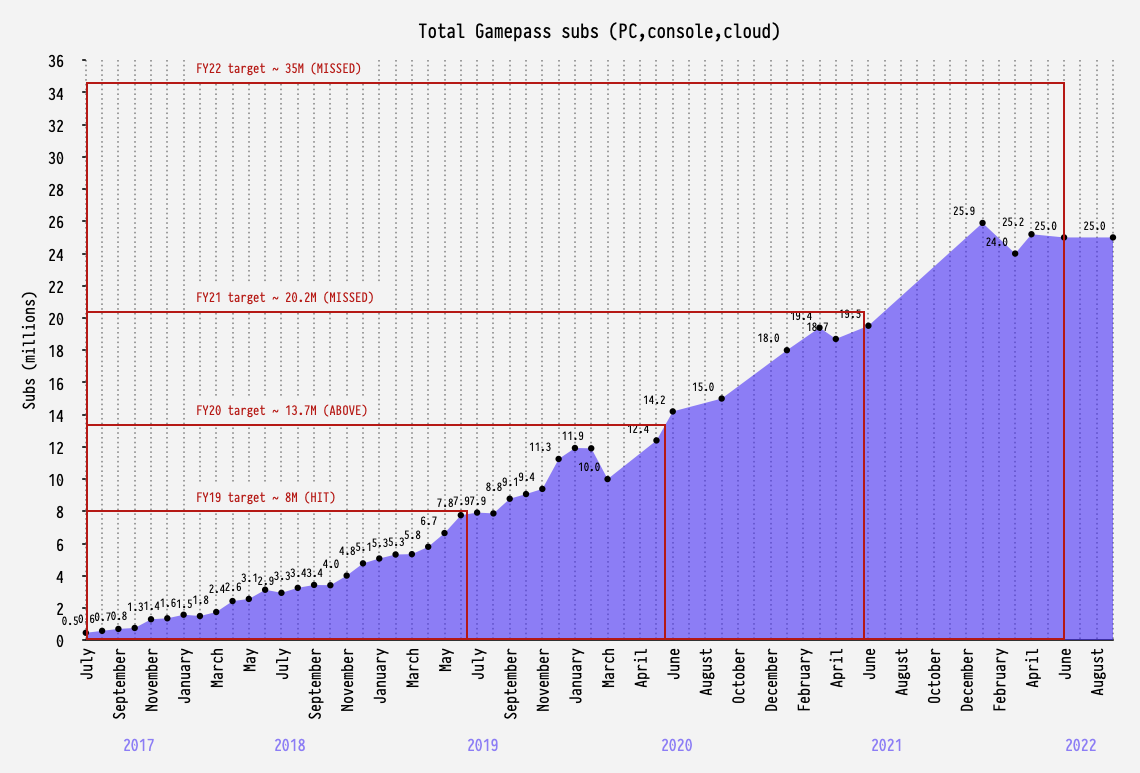 | Source/Calculation | Year | Month | GP total subs | PC GP subs |
| --- | --- | --- | --- | --- |
| Announcement | 2020 | March | 10.00 | |
| | 2020 | April | | |
| PX1110 | 2020 | May | 12.40 | 1.30 |
| KPI (court case) | 2020 | June | 14.20 | |
| | 2020 | July | | |
| | 2020 | August | | |
| Announcement | 2020 | September | 15.00 | |
| | 2020 | October | | |
| | 2020 | November | | |
| | 2020 | December | | |
| Announcement | 2021 | January | 18.00 | |
| | 2021 | February | | |
| Bethesda closed,PX1022 | 2021 | March | 19.40 | 1.18 |
| PX1240 + PC | 2021 | April | 18.70 | |
| | 2021 | May | | |
| KPI (court case) | 2021 | June | 19.52 | |
| | 2021 | July | | |
| | 2021 | August | | |
| | 2021 | September | | |
| | 2021 | October | | |
| | 2021 | November | | |
| | 2021 | December | | |
| Announcement | 2022 | January | 25.90 | |
| | 2022 | February | | |
| PX1022 | 2022 | March | 24.00 | 3.30 |
| PX1240 + PC | 2022 | April | 25.20 | |
| | 2022 | May | | |
| KPI (court case) | 2022 | June | 25.00 | |
| | 2022 | July | | |
| | 2022 | August | | |
| PS deposition, 159% YoY Q1 23 PC GP | 2022 | September | 25.00 | |
| | 2022 | October | | |
| | 2022 | November | | |
| | 2022 | December | | |
| | 2023 | January | | |
| | 2023 | February | | |
| 46% YoY MAU PC GP | 2023 | March | | 4.80 |
| | 2023 | April | | |
| | 2023 | May | | |
| PS deposition | 2023 | June | | |
Last edited: