Member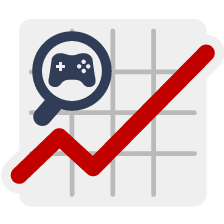 Triangulum Strategem
The Charts in this thread
Nintendo Switch eShop charts covering the period of Jan 03 - Jan 16, 2022 for the following regional charts: US, CA, BR, MX, JP, HK, AU, UK, FR, DE, ES, IT, SE, BE, RU
Many Charts are actually Multi-Regional
The following eShop charts appear to represent a single country: CA, MX, JP, FR, IT, RU, BR.
We have determined though that the rankings in all other eShop charts we cover represent the cumulative sales of more than one country.
Specifically:
- The US chart also includes the sales from Argentine, Chile, Colombia and Peru (AR, CL, CO, PE)
- The Australian eShop chart also includes the sales from New Zealand (AU, NZ)
- The German eShop chart also includes the sales from Switzerland and Austria (DE, CH, AT)
- The Spanish eShop chart also includes the sales from Portugal (ES, PT)
- The UK eShop chart also includes the sales from Ireland (UK, IE)
- The Belgian chart also includes the sales from the Netherlands and Luxembourg (BE, NL, LU)
- The Rest of Europe : From what we checked, any European country which has access to the eShop, but is not mentioned above, will most likely have the same eShop chart. For convenience, we will henceforth call this group of countries "The Rest of Europe".
The following countries from that group have already been specifically observed to have the same eShop chart:
Sweden,Norway, Finland, Denmark, Greece, Poland, Czech Republic, Croatia, Latvia, Bulgaria, Hungary (SE, NO, FI, DK, GR, PL, CZ, HR, SK, BG, HU)
- The South African chart is also the same as the Rest of Europe chart.
- We are not absolutely certain yet (as we still need confirmation from someone with actual access to a SK eShop account) but believe the HK chart quite probably also includes the eShop game sales from South Korea.
Chart methodology
- The sales period covered by each of these regional charts is the past two weeks.
- These charts include only paid-for Nintendo Switch eShop titles (not including DLCs). Any and all free-to-download games (including F2P titles e.g. Fortnite, and free-to-download cloud versions of games e.g. Control) are not included in these charts.
- Each regional chart in this thread was taken from a Nintendo Switch eShop account bound to the respective region:
Each regional chart contains the top 50 paid-for software titles that have been downloaded most frequently over the past two weeks in that region, regardless of whether they are download only or also have a retail presence.
Retail sales of any titles are not taken into account in these charts.
From time to time there might be a discount outside of the eShop that affected a game's ranking inside the eShop (e.g. an Amazon discount on a game's digital version) - such discounts will not be mentioned here as we do not have the means to follow these regularly
- All charts in this thread have been retrieved on the exact same day and date (always a Sunday) in their respective region. The time of the day the charts have been retrieved may differ though.
- Due to technical issues outweighing any possible benefits, game names may sometimes not be identical across the charts.
Color Map
Bold Blue
- pre-orders and titles released in the last 7 days
Light blue
- titles released more than 7 days ago but still within the 14 days period covered by the charts
light red
- eShop discounts that occurred during the 14 day period covered by the charts ("is" means the game is still on sale, "was" means it is no longer on sale but was at some point in the last 2 weeks)
US Switch eShop Chart for the period of Jan 03 - Jan 16, 2022 (also covers
)
01./02. Mario Party Superstars {2021-10-29} (USD 59.99)
02./01. Mario Kart 8 Deluxe {2017-04-28} (USD 59.99)
03./05. Minecraft {2018-06-20} (USD 29.99)
04./06. Animal Crossing: New Horizons {2020-03-20} (USD 59.99)
05./04. Among Us {2020-12-15} (USD 5.0)
06./30. Untitled Goose Game {2019-09-20} (USD 19.99)
(is 50% off)
07./07. Pokémon Brilliant Diamond {2021-11-19} (USD 59.99)
08./26. STAR WARS: Knights of the Old Republic {2021-11-11} (USD 14.99)
(is 25% off)
09./00. Red Faction Guerrilla Re-Mars-tered {2019-07-02} (USD 29.99)
(is 90% off)
10./13. Stardew Valley {2017-10-05} (USD 14.99)
11./03. Overcooked Special Edition {2017-07-27} (USD 19.99)
(was 90% off)
12./09. Super Smash Bros. Ultimate {2018-12-07} (USD 59.99)
13./46. Ori and the Blind Forest: Definitive Edition {2019-09-27} (USD 19.99)
(is 50% off)
14./00. LEGO Harry Potter Collection {2018-10-30} (USD 49.99)
(is 80% off)
15./10. Cuphead {2019-04-18} (USD 19.99)
(was 30% off)
16./00. The Witcher 3: Wild Hunt — Complete Edition {2019-10-15} (USD 59.99)
(is 50% off)
17./11. Overcooked! 2 {2018-08-07} (USD 24.99)
(was 75% off)
18./16. Super Mario 3D World + Bowser's Fury {2021-02-12} (USD 59.99)
19./00. Little Nightmares Complete Edition {2018-05-18} (USD 29.99)
(is 75% off)
20./00. Clubhouse Games: 51 Worldwide Classics {2020-06-05} (USD 39.99)
(is 30% off)
21./00. Unravel Two {2019-03-22} (USD 19.99)
(is 75% off)
22./19. Pokémon Shining Pearl {2021-11-19} (USD 59.99)
23./00. Just Dance 2022 Deluxe Edition {2021-11-04} (USD 59.99)
(is 50% off)
24./00. JUMP FORCE - Deluxe Edition {2020-08-28} (USD 49.99)
(is 75% off)
25./24. The Legend of Zelda: Breath of the Wild {2017-03-03} (USD 59.99)
26./32. LEGO Marvel Super Heroes 2 {2017-11-14} (USD 29.99)
(is 80% off)
27./00. South Park: The Stick of Truth {2018-09-25} (USD 29.99)
(is 75% off)
28./00. FIFA 22 Nintendo Switch Legacy Edition {2021-10-01} (USD 39.99)
(is 50% off)
29./25. Unpacking {2021-11-02} (USD 19.99)
30./00. GRIS {2018-12-13} (USD 16.99)
(is 75% off)
31./00. Spiritfarer {2020-08-18} (USD 29.99)
(is 50% off)
32./00. Donkey Kong Country: Tropical Freeze {2018-05-04} (USD 59.99)
(is 30% off)
33./28. Big Brain Academy: Brain vs. Brain {2021-12-03} (USD 29.99)
34./50. Grand Theft Auto: The Trilogy – The Definitive Edition {2021-11-11} (USD 59.99)
(is 20% off)
35./00. Sid Meier's Civilization VI {2018-11-16} (USD 29.99)
(is 70% off)
36./29. Hollow Knight {2018-06-12} (USD 15.0)
37./49. Nickelodeon Kart Racers {2018-10-23} (USD 29.99)
(was 75% off)
38./00. Shin Megami Tensei V {2021-11-12} (USD 59.99)
(is 30% off)
39./00. Burnout Paradise Remastered {2020-06-19} (USD 29.99)
(is 70% off)
40./12. Mortal Kombat 11 {2019-04-22} (USD 49.99)
(is 80% off)
41./17. MONOPOLY for Nintendo Switch {2017-10-31} (USD 39.99)
(was 75% off)
42./35. New Super Mario Bros. U Deluxe {2019-01-11} (USD 59.99)
43./20. UNO {2021-01-05} (USD 9.99)
(was 60% off)
44./00. Contra Anniversary Collection {2019-06-11} (USD 19.99)
(is 75% off)
45./00. Cooking Simulator {2020-05-14} (USD 19.99)
(is 90% off)
46./15. Stick Fight: The Game {2021-04-01} (USD 7.5)
47./00. ASTRONEER {2022-01-13} (USD 29.99)
48./14. Just Dance 2022 {2021-11-04} (USD 49.99)
(was 40% off)
49./38. Super Mario Odyssey {2017-10-27} (USD 59.99)
50./00. Ori and the Will of the Wisps {2020-09-17} (USD 29.99)
(is 50% off)
CA Switch eShop Chart for the period of Jan 03 - Jan 16, 2022
01./01. Mario Kart 8 Deluxe {2017-04-28} (CAD 79.99)
02./02. Mario Party Superstars {2021-10-29} (CAD 79.99)
03./20. Scribbled {2021-07-17} (CAD 9.99)
(was 99% off)
04./06. Minecraft {2018-06-20} (CAD 29.99)
05./34. Untitled Goose Game {2019-09-20} (CAD 25.99)
(is 50% off)
06./05. Animal Crossing: New Horizons {2020-03-20} (CAD 79.99)
07./03. Overcooked Special Edition {2017-07-27} (CAD 26.79)
(was 90% off)
08./38. Donkey Kong Country: Tropical Freeze {2018-05-04} (CAD 79.99)
(is 30% off)
09./00. LEGO Harry Potter Collection {2018-10-30} (CAD 59.99)
(is 80% off)
10./13. Stardew Valley {2017-10-05} (CAD 16.99)
11./04. Overcooked! 2 {2018-08-07} (CAD 27.99)
(was 75% off)
12./48. Ori and the Blind Forest: Definitive Edition {2019-09-27} (CAD 24.99)
(is 50% off)
13./00. Just Dance 2022 Deluxe Edition {2021-11-04} (CAD 73.49)
(is 50% off)
14./07. Among Us {2020-12-15} (CAD 6.3)
15./10. Pokémon Brilliant Diamond {2021-11-19} (CAD 79.99)
16./12. Super Smash Bros. Ultimate {2018-12-07} (CAD 79.99)
17./00. Red Faction Guerrilla Re-Mars-tered {2019-07-02} (CAD 29.99)
(is 90% off)
18./49. Clubhouse Games: 51 Worldwide Classics {2020-06-05} (CAD 49.99)
(is 30% off)
19./14. Super Mario 3D World + Bowser's Fury {2021-02-12} (CAD 79.99)
20./00. The Witcher 3: Wild Hunt — Complete Edition {2019-10-15} (CAD 79.99)
(is 50% off)
21./00. Unravel Two {2019-03-22} (CAD 25.99)
(is 75% off)
22./15. Big Brain Academy: Brain vs. Brain {2021-12-03} (CAD 39.99)
23./46. STAR WARS: Knights of the Old Republic {2021-11-11} (CAD 19.94)
(is 25% off)
24./27. New Super Mario Bros. U Deluxe {2019-01-11} (CAD 79.99)
25./00. Spiritfarer {2020-08-18} (CAD 33.99)
(is 50% off)
26./32. The Legend of Zelda: Breath of the Wild {2017-03-03} (CAD 79.99)
27./00. Little Nightmares Complete Edition {2018-05-18} (CAD 39.99)
(is 75% off)
28./00. Freddi Fish 3: The Case of the Stolen Conch Shell {2022-01-03} (CAD 19.99)
(was 20% off)
29./09. Just Dance 2022 {2021-11-04} (CAD 59.99)
(was 40% off)
30./11. MONOPOLY for Nintendo Switch {2017-10-31} (CAD 49.99)
(was 75% off)
31./00. GRIS {2018-12-13} (CAD 20.99)
(is 75% off)
32./00. .cat Milk {2021-08-13} (CAD 12.99)
(is 99% off)
33./00. Sid Meier's Civilization VI {2018-11-16} (CAD 39.99)
(is 70% off)
34./00. Super Mario Maker 2 {2019-06-28} (CAD 79.99)
(is 30% off)
35./00. South Park: The Stick of Truth {2018-09-25} (CAD 39.99)
(is 75% off)
36./00. Mario Tennis Aces {2018-06-22} (CAD 79.99)
(is 30% off)
37./33. Super Mario Odyssey {2017-10-27} (CAD 79.99)
38./30. Pokémon Shining Pearl {2021-11-19} (CAD 79.99)
39./19. Moving Out {2020-04-28} (CAD 27.99)
(was 75% off)
40./00. LEGO Marvel Super Heroes 2 Deluxe Edition {2019-02-12} (CAD 59.99)
(is 80% off)
41./00. Mario & Sonic at the Olympic Games Tokyo 2020 {2019-11-05} (CAD 79.99)
(is 50% off)
42./00. Need for Speed Hot Pursuit Remastered {2020-11-13} (CAD 54.99)
(is 70% off)
43./00. Spyro Reignited Trilogy {2019-09-03} (CAD 49.99)
(is 50% off)
44./31. Super Mario Party {2018-10-05} (CAD 79.99)
45./22. Cuphead {2019-04-18} (CAD 25.99)
(was 31% off)
46./00. Shin Megami Tensei V {2021-11-12} (CAD 79.99)
(is 30% off)
47./00. Captain Toad: Treasure Tracker and Captain Toad: Treasure Tracker - Special Episode Bundle {2019-02-13} (CAD 57.54)
(is 30% off)
48./16. Mario + Rabbids Kingdom Battle Gold Edition {2017-11-17} (CAD 109.99)
(was 80% off)
49./00. Ori and the Will of the Wisps {2020-09-17} (CAD 39.99)
(is 50% off)
50./37. Unpacking {2021-11-02} (CAD 26.59)
BR Switch eShop Chart for the period of Jan 03 - Jan 16, 2022
01./01. Overcooked! 2 {2018-08-07} (BRL 49.0)
(was 75% off)
02./15. Ori and the Blind Forest: Definitive Edition {2019-09-27} (BRL 99.0)
(is 50% off)
03./13. Dead Cells {2018-08-07} (BRL 99.95)
(is 50% off)
04./17. Taiko no Tatsujin: Drum 'n' Fun! {2018-11-02} (BRL 249.9)
(is 80% off)
05./23. Katana Zero {2019-04-18} (BRL 28.99)
(is 40% off)
06./09. Stardew Valley {2017-10-05} (BRL 24.99)
07./00. Just Dance 2022 Deluxe Edition {2021-11-04} (BRL 279.50)
(is 50% off)
08./10. Hollow Knight {2018-06-12} (BRL 27.99)
09./02. Cuphead {2019-04-18} (BRL 49.9)
(was 30% off)
10./36. Clubhouse Games: 51 Worldwide Classics {2020-06-05} (BRL 199.0)
(is 30% off)
11./42. Spiritfarer {2020-08-18} (BRL 57.99)
(is 50% off)
12./38. FIFA 22 Nintendo Switch Legacy Edition {2021-10-01} (BRL 199.0)
(is 50% off)
13./35. Donkey Kong Country: Tropical Freeze {2018-05-04} (BRL 299.0)
(is 30% off)
14./37. Super Mario Maker 2 {2019-06-28} (BRL 299.0)
(is 30% off)
15./04. Overcooked Special Edition {2017-07-27} (BRL 49.0)
(was 90% off)
16./47. Untitled Goose Game {2019-09-20} (BRL 73.99)
(is 50% off)
17./05. Moving Out {2020-04-28} (BRL 59.9)
(was 75% off)
18./48. The Witcher 3: Wild Hunt {2021-01-28} (BRL 179.99)
(is 50% off)
19./16. Minecraft {2018-06-20} (BRL 74.95)
20./00. Little Nightmares Complete Edition {2018-05-18} (BRL 124.9)
(is 75% off)
21./00. Unravel Two {2019-03-22} (BRL 119.0)
(is 75% off)
22./00. Need for Speed Hot Pursuit Remastered {2020-11-13} (BRL 199.0)
(is 70% off)
23./00. Fitness Boxing 2: Rhythm & Exercise {2020-12-04} (BRL 249.0)
(is 30% off)
24./28. MORTO - Chapter 1 {2021-08-06} (BRL 0.99)
(is 90% off)
25./00. Rayman Legends Definitive Edition {2017-09-12} (BRL 149.9)
(is 75% off)
26./18. Mario Kart 8 Deluxe {2017-04-28} (BRL 299.0)
27./06. Mario + Rabbids Kingdom Battle Gold Edition {2017-11-17} (BRL 279.90)
(was 80% off)
28./08. Just Dance 2022 {2021-11-04} (BRL 239.95)
(was 40% off)
29./07. Figment {2018-06-28} (BRL 36.99)
(was 90% off)
30./34. Horizon Chase Turbo {2018-11-28} (BRL 69.99)
(was 75% off)
31./00. Gris {2018-12-13} (BRL 86.65)
(is 75% off)
32./25. Animal Crossing: New Horizons {2020-03-20} (BRL 299.0)
33./00. NARUTO SHIPPUDEN: Ultimate Ninja Storm Trilogy {2018-04-26} (BRL 199.5)
(is 70% off)
34./00. Mario Tennis Aces {2018-06-22} (BRL 299.0)
(is 30% off)
35./00. Shin Megami Tensei V {2021-11-12} (BRL 250.79)
(is 30% off)
36./00. DRAGON BALL FIGHTERZ {2018-09-28} (BRL 249.9)
(is 84% off)
37./00. Lovers in a Dangerous Spacetime {2017-10-03} (BRL 49.9)
(is 50% off)
38./00. Child of Light Ultimate Edition + Valiant Hearts: The Great War {2021-05-11} (BRL 149.95)
(is 75% off)
39./00. LEGO Harry Potter Collection {2018-10-30} (BRL 249.99)
(is 80% off)
40./00. South Park: The Stick of Truth {2018-09-25} (BRL 79.0)
(is 75% off)
41./00. Diablo: Prime Evil Collection {2021-09-23} (BRL 279.90)
(is 35% off)
42./30. Mario Party Superstars {2021-10-29} (BRL 299.0)
43./00. Sid Meier's Civilization VI {2018-11-16} (BRL 149.5)
(is 70% off)
44./00. Contra Anniversary Collection {2019-06-11} (BRL 83.5)
(is 75% off)
45./00. DRAGON BALL FIGHTERZ - Ultimate Edition {2018-09-28} (BRL 449.90)
(is 84% off)
46./44. The Legend of Zelda: Breath of The Wild {2017-03-03} (BRL 299.0)
47./00. Mario & Sonic at the Olympic Games Tokyo 2020 {2019-11-05} (BRL 250.79)
(is 50% off)
48./14. Assassin's Creed: The Rebel Collection {2019-12-06} (BRL 149.9)
(was 63% off)
49./40. Super Mario Odyssey {2017-10-27} (BRL 299.0)
50./00. Cities: Skylines - Nintendo Switch Edition {2018-09-13} (BRL 75.49)
(is 75% off)
MX Switch eShop Chart for the period of Jan 03 - Jan 16, 2022
01./10. .cat Milk {2021-08-13} (MXN 199.0)
(is 99% off)
02./01. Mario Kart 8 Deluxe {2017-04-28} (MXN 1399.0)
03./04. Minecraft {2018-06-20} (MXN 499.0)
04./06. Among Us {2020-12-15} (MXN 97.0)
05./05. Cuphead {2019-04-18} (MXN 349.0)
(was 30% off)
06./02. Grand Guilds {2020-03-26} (MXN 389.99)
(was 99% off)
07./42. Little Nightmares Complete Edition {2018-05-18} (MXN 549.0)
(is 75% off)
08./26. FIFA 22 Nintendo Switch Legacy Edition {2021-10-01} (MXN 899.0)
(is 50% off)
09./03. Overcooked Special Edition {2017-07-27} (MXN 409.83)
(was 90% off)
10./00. JUMP FORCE - Deluxe Edition {2020-08-28} (MXN 1300.0)
(is 75% off)
11./16. Ultra Foodmess {2020-08-06} (MXN 77.0)
(was 50% off)
12./33. MORTO - Chapter 1 {2021-08-06} (MXN 7.99)
(is 88% off)
13./00. Red Faction Guerrilla Re-Mars-tered {2019-07-02} (MXN 581.81)
(is 90% off)
14./11. NecroWorm {2020-03-26} (MXN 96.81)
(was 99% off)
15./22. Cartoon Network: Battle Crashers {2017-10-31} (MXN 193.81)
(was 75% off)
16./00. DRAGON BALL Xenoverse 2 for Nintendo Switch {2017-09-22} (MXN 890.0)
(is 84% off)
17./00. NARUTO SHIPPUDEN: Ultimate Ninja STORM 4 ROAD TO BORUTO {2020-04-24} (MXN 949.0)
(is 67% off)
18./07. Towertale {2020-04-08} (MXN 189.99)
(was 99% off)
19./31. Nickelodeon Kart Racers {2018-10-23} (MXN 581.81)
(was 75% off)
20./40. LEGO Marvel Super Heroes 2 {2017-11-14} (MXN 689.0)
(is 80% off)
21./19. Mario Party Superstars {2021-10-29} (MXN 1399.0)
22./00. Ori and the Blind Forest: Definitive Edition {2019-09-27} (MXN 499.0)
(is 50% off)
23./00. ONE PIECE Pirate Warriors 3 Deluxe Edition {2018-05-10} (MXN 729.0)
(is 84% off)
24./29. Arcade Archives VS. SUPER MARIO BROS. {2017-12-22} (MXN 150.99)
26./25. Hollow Knight {2018-06-12} (MXN 149.99)
27./00. NARUTO SHIPPUDEN: Ultimate Ninja Storm Trilogy {2018-04-26} (MXN 729.0)
(is 70% off)
28./00. Untitled Goose Game {2019-09-20} (MXN 389.99)
(is 50% off)
29./00. Plants vs. Zombies: Battle for Neighborville Complete Edition {2021-03-19} (MXN 899.0)
(is 55% off)
30./00. Gris {2018-12-13} (MXN 329.61)
(is 75% off)
31./00. Ori and the Will of the Wisps {2020-09-17} (MXN 505.89)
(is 50% off)
32./00. Suicide Guy {2018-05-10} (MXN 149.41)
(is 90% off)
33./00. The Witcher 3: Wild Hunt — Complete Edition {2019-10-15} (MXN 1199.0)
(is 50% off)
34./13. High Noon Revolver {2019-07-23} (MXN 54.99)
(was 96% off)
35./00. South Park: The Stick of Truth {2018-09-25} (MXN 599.0)
(is 75% off)
36./00. Need for Speed Hot Pursuit Remastered {2020-11-13} (MXN 899.0)
(is 70% off)
37./00. Contra Anniversary Collection {2019-06-11} (MXN 399.0)
(is 75% off)
38./00. Five Nights at Freddy's 2 {2019-11-29} (MXN 154.99)
39./21. Overcooked! 2 {2018-08-07} (MXN 484.81)
(was 75% off)
40./00. LEGO Harry Potter Collection {2018-10-30} (MXN 1189.0)
(is 80% off)
41./15. Ultimate Chicken Horse {2018-09-25} (MXN 149.99)
42./00. DRAGON BALL FIGHTERZ {2018-09-28} (MXN 1300.0)
(is 84% off)
43./00. DRAGON BALL FIGHTERZ - Ultimate Edition {2018-09-28} (MXN 2200.0)
(is 84% off)
44./14. Mario + Rabbids Kingdom Battle Gold Edition {2017-11-17} (MXN 1,599.00)
45./44. Stardew Valley {2017-10-05} (MXN 149.99)
46./00. Super Mario Maker 2 {2019-06-28} (MXN 1399.0)
(is 30% off)
47./17. Just Dance 2022 {2021-11-04} (MXN 999.0)
(was 40% off)
48./00. Party Crashers {2018-10-04} (MXN 291.0)
(was 95% off)
49./00. Team Sonic Racing {2019-05-21} (MXN 379.0)
(is 50% off)
50./20. Blasphemous {2019-09-10} (MXN 484.81)
(was 75% off)
JP Switch eShop Chart for the period of Jan 03 - Jan 16, 2022
01./02. Clubhouse Games: 51 Worldwide Classics {2020-06-05} (JPY 4378.0)
(was 30% off)
02./01. Momotaro Dentetsu: Showa, Heisei, Reiwa mo Teiban! {2020-11-19} (JPY 6930.0)
(was 30% off)
03./03. Mario Party Superstars {2021-10-29} (JPY 6500.0)
04./04. Override: Mech City Brawl – Super Charged Mega Edition {2019-12-12} (JPY 4620.0)
(was 97% off)
05./07. Super Smash Bros. Ultimate {2018-12-07} (JPY 7920.0)
06./06. Mario Kart 8 Deluxe {2017-04-28} (JPY 6578.0)
07./27. DRAGON QUEST III: The Seeds of Salvation {2019-09-27} (JPY 1650.0)
(is 35% off)
08./09. Among Us {2021-12-16} (JPY 520.0)
09./08. The Legend of Zelda: Breath of the Wild {2017-03-03} (JPY 7678.0)
10./05. Overcooked! 2 {2018-11-29} (JPY 2750.0)
(was 75% off)
11./12. Minecraft {2018-06-21} (JPY 3960.0)
12./10. Big Brain Academy: Brain vs. Brain {2021-12-03} (JPY 3200.0)
13./21. Fitness Boxing 2: Rhythm & Exercise {2020-12-03} (JPY 6380.0)
(was 20% off)
14./14. Animal Crossing: New Horizons {2020-03-20} (JPY 6578.0)
15./20. The Battle Cats Unite! {2020-07-16} (JPY 999.0)
16./11. DRAGON QUEST XI S: Echoes of an Elusive Age – Definitive Edition {2019-09-27} (JPY 5478.0)
(was 35% off)
17./16. Human: Fall Flat {2020-06-25} (JPY 1530.0)
18./13. Pokémon Brilliant Diamond {2021-11-19} (JPY 6578.0)
19./15. Monster Hunter Rise {2021-03-26} (JPY 5990.0)
(was 25% off)
20./00. Duel Princess {2022-01-13} (JPY 2780.0)
(was 10% off)
21./19. Yokai Watch 4++ {2019-12-05} (JPY 7128.0)
(was 79% off)
22./00. DRAGON QUEST II: Luminaries of the Legendary Line {2019-09-27} (JPY 935.0)
(is 35% off)
23./00. ASTRONEER {2022-01-13} (JPY 3000.0)
24./00. Cooking Simulator {2021-03-11} (JPY 2000.0)
(is 90% off)
25./00. DRAGON QUEST {2019-09-27} (JPY 660.0)
(is 35% off)
26./17. ENDER LILIES: Quietus of the Knights {2021-06-22} (JPY 2728.0)
(was 25% off)
27./30. Splatoon 2 {2017-07-21} (JPY 6578.0)
28./00. Kunio-kun: The World Classics Collection {2020-06-25} (JPY 500.0)
(is 80% off)
29./25. Pokémon Shining Pearl {2021-11-19} (JPY 6578.0)
30./24. FINAL FANTASY VII {2019-03-26} (JPY 1834.0)
(was 50% off)
31./22. UNDERTALE {2018-09-15} (JPY 1620.0)
32./23. FINAL FANTASY X/X-2 HD Remaster {2019-04-11} (JPY 6688.0)
(was 50% off)
33./00. Unravel Two {2019-03-22} (JPY 3024.0)
(was 83% off)
34./33. Taiko no Tatsujin: Drum 'n' Fun! {2018-07-19} (JPY 6710.0)
(was 39% off)
35./42. FIFA 22 Nintendo Switch Legacy Edition {2021-10-01} (JPY 4300.0)
(was 50% off)
36./18. OCTOPATH TRAVELER {2018-07-13} (JPY 7480.0)
(was 50% off)
37./26. FINAL FANTASY IX {2019-02-14} (JPY 2547.0)
(was 50% off)
38./31. DEEEER Simulator: Your Average Everyday Deer Game {2021-11-25} (JPY 1980.0)
39./35. Super Mario Maker 2 {2019-06-28} (JPY 6578.0)
(was 30% off)
40./38. Good Job! {2020-03-26} (JPY 2000.0)
(was 30% off)
41./41. Super Bomberman R {2017-03-03} (JPY 3036.0)
(is 35% off)
42./00. Thief Simulator {2020-12-03} (JPY 2000.0)
(is 90% off)
43./28. Rad Rodgers Radical Edition {2019-04-18} (JPY 3035.0)
(was 97% off)
44./47. Pokémon Sword {2019-11-15} (JPY 6578.0)
45./37. DRAGON QUEST X: All-in-One Package {2020-05-14} (JPY 5280.0)
(was 50% off)
46./44. Super Mario 3D World + Bowser's Fury {2021-02-12} (JPY 6578.0)
47./36. Let's Play! Oink Games {2021-12-16} (JPY 2500.0)
48./29. Sakuna: Of Rice and Ruin {2020-11-12} (JPY 5478.0)
(was 40% off)
49./48. Ni no Kuni: Wrath of the White Witch {2019-09-20} (JPY 6050.0)
(was 75% off)
50./50. Shiren the Wanderer: The Tower of Fortune and the Dice of Fate {2020-12-03} (JPY 2980.0)
(was 30% off)
HK Switch eShop Chart for the period of Jan 03 - Jan 16, 2022
01./02. Super Mario Odyssey {2018-04-03} (HKD 429)
(was 30% off)
02./05. Unravel Two {2020-02-06} (HKD 239)
(was 83% off)
03./01. Little Nightmares Complete Edition {2020-03-12} (HKD 199)
04./03. Overcooked! 2 {2020-09-10} (HKD 196)
05./00. Jump Force - Deluxe Edition + Character Pass 2 {2020-08-27} (HKD 549)
(is 89% off)
06./11. Double Dragon 4 {2018-08-30} (HKD 50)
(is 80% off)
07./21. Figment {2021-03-18} (HKD 149)
(is 90% off)
08./04. Richman 10 {2021-08-26} (HKD 119)
09./14. Animal Crossing: New Horizons {2020-03-20} (HKD 429)
10./36. Heaven Dust 2 {2022-01-06} (HKD 58)
(was 10% off)
11./16. FIFA 22 Nintendo Switch Legacy Edition {2021-10-01} (HKD 319)
(was 50% off)
12./27. Just Dance 2022 Ultimate Edition {2021-11-16} (HKD 566)
(was 40% off)
13./08. Fitness Boxing 2: Rhythm & Exercise {2020-12-03} (HKD 359)
(was 20% off)
14./07. Moving Out {2020-04-28} (HKD 193)
15./09. Yo-kai Watch 4++ {2019-12-05} (HKD 465)
(was 78% off)
16./24. Need for Speed Hot Pursuit Remastered {2020-11-13} (HKD 319)
(was 70% off)
17./10. Super Bomberman R {2020-02-13} (HKD 198)
18./00. Knock 'Em Down! Bowling {2020-03-26} (HKD 98)
(is 89% off)
19./17. Mario Party Superstars {2021-10-29} (HKD 429)
20./47. Xenon Racer {2020-02-27} (HKD 229)
(was 91% off)
21./15. Overcooked! All You Can Eat {2021-03-23} (HKD 275)
22./00. Down in Bermuda {2021-10-21} (HKD 160)
(is 90% off)
23./40. Diablo II: Resurrected {2021-09-24} (HKD 311)
(is 25% off)
24./00. Diablo Prime Evil Collection {2021-09-24} (HKD 469)
(is 35% off)
25./19. Sword Art Online: Fatal Bullet Complete Edition {2019-08-08} (HKD 449)
26./00. Moto Rush GT Deluxe Edition {2020-12-10} (HKD 130)
(is 92% off)
27./29. Octopath Traveler {2019-06-07} (HKD 429)
(was 30% off)
28./34. Mario Kart 8 Deluxe {2018-04-03} (HKD 429)
29./18. Machinarium {2020-04-23} (HKD 99)
30./33. Deadly Days {2020-11-19} (HKD 80)
(was 85% off)
31./00. Kingdom Rush Origins {2020-09-17} (HKD 76)
(is 71% off)
32./25. Yoshi's Crafted World {2019-03-29} (HKD 429)
(was 30% off)
33./30. Hyrule Warriors: Age of Calamity + Hyrule Warriors: Age of Calamity Expansion Pass {2021-05-28} (HKD 568)
(was 22% off)
34./22. Table Tennis {2021-08-19} (HKD 78)
35./12. Moto Rush GT {2020-11-12} (HKD 120)
36./00. Classic Pool {2021-07-29} (HKD 74)
(is 86% off)
37./00. AAA Clock Deluxe Edition {2021-12-09} (HKD 81)
(is 82% off)
38./37. Hyrule Warriors: Age of Calamity {2020-11-20} (HKD 429)
(was 30% off)
39./26. God Eater 3 {2019-07-11} (HKD 449)
40./00. Plants vs. Zombies: Battle for Neighborville Complete Edition {2021-03-19} (HKD 319)
41./45. Pokémon Brilliant Diamond {2021-11-19} (HKD 429)
42./28. One Piece: Pirate Warriors 4 Deluxe Edition {2020-03-26} (HKD 649)
43./50. Super Smash Bros. Ultimate {2018-12-07} (HKD 429)
44./49. The Battle Cats Unite! {2021-12-09} (HKD 79)
45./00. Super Robot Wars X {2020-01-10} (HKD 449)
46./48. Big Brain Academy: Brain vs. Brain {2021-12-03} (HKD 219)
47./00. Tetris Effect: Connected {2021-10-08} (HKD 176)
48./00. Wolfenstein II: The New Colossus {2021-11-18} (HKD 310)
(is 70% off)
49./00. S.N.I.P.E.R. - Hunter Scope {2020-11-19} (HKD 110)
50./00. Kingdom Rush Frontiers {2020-03-12} (HKD 75)
(is 70% off)
AU Switch eShop Chart for the period of Jan 03 - Jan 16, 2022 (also covers
)
01./01. Mario Kart 8 Deluxe {2017-04-28} (AUD 79.95)
02./08. Red Faction Guerrilla Re-Mars-tered {2019-07-02} (AUD 49.95)
(was 93% off)
03./23. Untitled Goose Game {2020-09-29} (AUD 30.0)
(is 50% off)
04./15. Unravel Two {2019-03-22} (AUD 39.99)
(was 83% off)
05./17. Down in Bermuda {2021-01-14} (AUD 24.99)
(is 94% off)
06./07. Minecraft {2018-06-21} (AUD 39.95)
07./06. Mario Party Superstars {2021-10-29} (AUD 79.95)
08./03. Overcooked: Special Edition {2017-07-27} (AUD 26.0)
(was 90% off)
09./04. Overcooked! 2 {2020-04-07} (AUD 37.5)
(was 75% off)
10./09. Animal Crossing: New Horizons {2020-03-20} (AUD 79.95)
11./05. Among Us {2020-12-15} (AUD 6.45)
12./20. The Witcher 3: Wild Hunt – Complete Edition {2019-10-15} (AUD 79.95)
(was 50% off)
13./22. Ori and the Blind Forest: Definitive Edition {2020-12-02} (AUD 29.95)
(was 50% off)
14./14. Stardew Valley {2017-10-05} (AUD 16.99)
15./10. Pokémon Brilliant Diamond {2021-11-19} (AUD 79.95)
16./31. FIFA 22 Nintendo Switch Legacy Edition {2021-10-01} (AUD 59.95)
(was 50% off)
17./43. Little Nightmares Complete Edition {2018-05-18} (AUD 55.95)
(was 80% off)
18./29. Sid Meier's Civilization VI {2021-10-13} (AUD 47.95)
(was 70% off)
19./47. LEGO Marvel Super Heroes {2021-10-08} (AUD 59.95)
(was 50% off)
20./02. Mario + Rabbids Kingdom Battle {2017-08-29} (AUD 59.95)
21./00. Ori and the Will of the Wisps {2020-09-17} (AUD 45.0)
(was 50% off)
22./44. Crash Bandicoot N. Sane Trilogy {2018-06-29} (AUD 69.95)
(was 50% off)
23./00. Just Dance 2022 Deluxe Edition {2021-11-04} (AUD 94.90)
(was 29% off)
24./46. Fire Emblem: Three Houses {2019-07-26} (AUD 79.95)
(was 33% off)
25./24. Super Smash Bros. Ultimate {2018-12-07} (AUD 89.95)
26./13. Moving Out {2020-04-28} (AUD 37.5)
(was 75% off)
27./27. Unpacking {2021-11-02} (AUD 28.95)
28./00. INSIDE {2018-06-28} (AUD 30.0)
(was 75% off)
29./42. Carnival Games {2018-11-06} (AUD 54.95)
(was 75% off)
30./45. Death's Door {2021-11-23} (AUD 30.0)
(was 25% off)
31./00. Layton's Mystery Journey: Katrielle and the Millionaires' Conspiracy Deluxe Edition {2019-11-08} (AUD 59.95)
(was 50% off)
32./00. Spyro Reignited Trilogy {2019-09-03} (AUD 69.95)
(was 50% off)
33./00. Disco Elysium - The Final Cut {2021-10-12} (AUD 60.0)
(was 35% off)
34./00. Must Dash Amigos {2019-12-05} (AUD 8.39)
(was 90% off)
35./34. Grand Theft Auto: The Trilogy – The Definitive Edition {2021-11-11} (AUD 79.95)
(was 20% off)
36./30. Pokémon Shining Pearl {2021-11-19} (AUD 79.95)
37./00. Mario Golf: Super Rush {2021-06-25} (AUD 79.95)
(was 20% off)
38./41. Minigolf Adventure {2021-10-22} (AUD 7.5)
(was 50% off)
39./00. Figment {2018-06-28} (AUD 29.0)
(is 90% off)
40./39. New Super Mario Bros. U Deluxe {2019-01-11} (AUD 79.95)
41./48. The Legend of Zelda: Breath of the Wild {2017-03-03} (AUD 89.95)
42./00. Need for Speed Hot Pursuit Remastered {2020-11-13} (AUD 59.95)
(was 70% off)
43./00. Fitness Boxing 2: Rhythm & Exercise {2020-12-04} (AUD 69.95)
(was 30% off)
44./00. LIMBO {2018-06-28} (AUD 15.0)
(was 80% off)
45./21. Cooking Simulator {2020-05-14} (AUD 30.0)
(was 90% off)
46./00. Descenders {2020-11-06} (AUD 37.5)
(was 50% off)
47./16. Stick Fight: The Game {2021-04-01} (AUD 9.0)
48./00. Dragon Ball FighterZ - FighterZ Edition {2018-09-28} (AUD 129.95)
49./00. Super Mario 3D World + Bowser's Fury {2021-02-12} (AUD 79.95)
50./00. Multi Quiz {2021-03-04} (AUD 15.0)
(was 90% off)
Last edited: